NOTTY HELPS CONSUMERS BE PROTECTED ONLINE
Living your life online makes it easier for others to see and find you, including scammers and fraudsters! Notty is the only place that gives you control to be prepared, be guarded, be safe online. With Notty you get two different products, Fraudweb and you can also get Cybercare, which includes McAfee. The Fraudweb searchers the consumers details for sale on the DarkWeb, with the basic FraudWeb Lite being a free service. The Cybercare with Notty is at a 50% discount (only £19.50 for a year ) and covers the user whilst searching the internet and their device.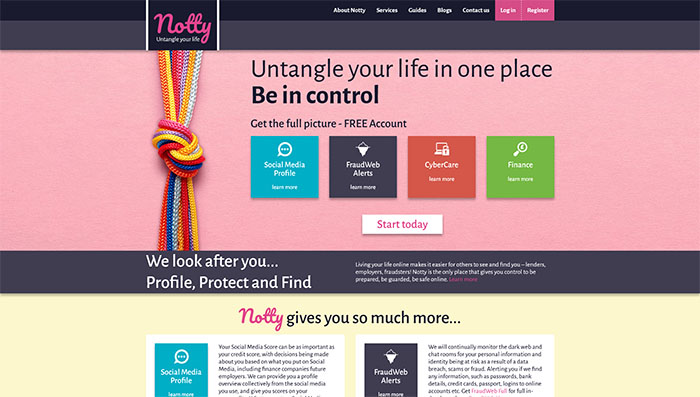 Notty.co.uk
Currently only available in the UK. There are two great offers, FraudWeb and Cybercare from Notty, both allow marketing via Banners, Email, Links, Social Media and Blogs.
Commissions are reported in real time through our proprietary tracking software. Notty is Maxx's own exclusive brand and can only be found on our affiliate network.
Payout FraudWeb: £5 CPA
Converts: When the customer signs up for FraudWeb from Notty
Payout CyberCare: £5.00 – £7.50 CPA
Converts: When the customer buys Cybercare from Notty